2013 Spring Gardening Lunch & Learn Sessions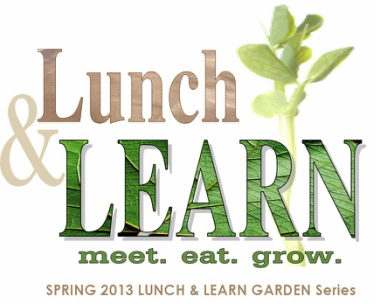 From starting a veggie garden to selecting shrubs for your yard to identifying insects, bring your questions and your lunch and join the experts for a free, open-forum gardening discussion. Each lunch session begins with a 30-minute educational presentation, followed by a 30-minute Q&A session where your gardening questions become the topic! So join your Extension Master Gardeners and County Extension Agent from 12:15-1:15 p.m. on the second and fourth Wednesdays in February through May at the Mecklenburg County Extension offices at 1418 Armory Drive (just off 7th Street), adjacent to Independence Park—parking in front of the building.
Edible Gardening 101 Wednesday, February 27, 2013  Extension Master Gardener Don Rosenberg shares his expert, practical approach to planning, installing, and maintaining a home garden. Learn tips and tricks for making small gardens as productive as possible from planting your seeds to managing crops to get the best yields with least effort. You'll learn all you need to know to grow healthy, delicious, money-saving vegetables and fruits!
The Dirt on Worm Composting Wednesday, March 13, 2013  Join Extension Master Gardener Carol Carrauxfor a step-by-step demonstration on creating worm bins to turn kitchen scraps into rich organic nutrients for your garden. With worms, a plastic bin, and newspaper learn this simple, inexpensive, eco-friendly process for creating "garden gold."
"Run for the Roses" Wednesday, March 27, 2013   Extension Master Gardener and rosarian Elizabeth Geppert presents simple, safe practices for growing fragrant, lush roses. Expert information on selecting, planting, and maintaining roses will inspire you to "run for the roses" and enjoy them in your yard.
From Garden Glory to Indoor Artistry  Wednesday, April 10, 2013, Bring the beauty of your garden inside by learning the basics of simple floral design from Extension Master Gardener Susan Hooper. Her easy, creative approach to transforming flowers and greenery from your yard into a feast for your eyes is inspirational.
Backyard Bugs  Wednesday, April 24, 2013   For a thoughtful look at insects found in and around your home and in the yard, join Scott Ewers, Mecklenburg Extension Consumer Horticulture Agent, as he explains how to evaluate whether or not an insect is a problem, how to determine if its presence requires a control, and how to identify the safest, effective controls.
Doing It with Dirt Wednesday, May 8, 2013  Master Composter and Extension Master Gardener Mary Stauble teaches the basics of soil stewardship, including effective, environmentally-friendly approaches to amending and building soil. The key to a great garden begins with the soil. Healthy soil is the foundation for a healthy, beautiful landscape, whatever you grow—from tomatoes and turf to tulips and trees.
Free + Open to the Public + 18 and older
To register online: http://www.mastergardenersmecklenburg.org/lunch–learn-register-here.html
call the Extension Master Gardener Hotline at 704.336.4011 or e-mail info@mastergardenersmecklenburg.org
Check the Mecklenburg Extension Master Gardener website at www.mastergardenersmecklenburg.org for more information on Lunch & Learn sessions and announcements, on these and other gardening programs, as well as for expert gardening information.