2018 Spring Embryology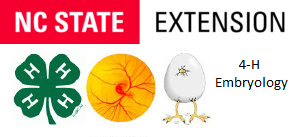 Questions about the information provided on this page should be directed to Catherine Daniels at catherine_daniels@ncsu.edu or 704-353-0740. Thank you!
Facilitators:
As stated in the email you all received – please follow the instructions on this page as to provide us with the necessary information needed to jump start our spring hatch! Also, please be sure to scroll all the way to the bottom to find vital resources and forms for your review.
If you have not already completed the curriculum access survey please do so by clicking here. *EVERY teacher using the curriculum at your school must fill this request out for recording purposes before they will be allowed access to view and obtain the curriculum.
Then please complete the following survey ASAP! Thanks for your response.
*Please note that this survey only needs to be completed ONCE per school. This survey is designed to solicit the response from the single teacher or LEAD teacher overseeing the program at their individual schools. Once all teachers have responded the decisions will be made as to which school will participate in which round, that information will then be dispersed at that time.
GENERAL INFORMATION:
**If you would like or need any of the following: justification and/or informational material for school administrators (to approve current or future embryology participation), a sample parent letter on our letterhead informing them their child will be participating in an embryology project, or any health-related responses to egg handling concerns please contact catherine_daniels@ncsu.edu for these templates and for more information.**
Guidelines for Animals in NC Schools
TEACHER RESOURCES:
NCSU Extension 4-H Embryology Website & Resource List
(Includes links to great posters which show egg development, incubator information, teacher training powerpoints, activities, media, and lots of other helpful information for embryology facilitation.)
University of Nebraska-Lincoln Extension – Lancaster County 4-H Embryology
CHICKEN SPECIFIC MATERIALS:
*Please click to enlarge the below manufacturer's instructions for use of provided incubators. You have a color copy of these materials in your box. Please keep up with these instructions as they will need to be returned with your box. You may print the below picture if you'd like your own copy to keep but the 4-H office MUST receive the color copies back that are included in your incubator boxes. Thank you!!
Please scroll all the way down to see the other 4-H hatching guide as another resource to refer to when answering questions about the incubator, hatch process, and clean up prior to returns.
4-H Embryology – Hatching Chickens Resource Guide
***In revision stage – please check back for final edits as we have received some newer incubators which include different instructions. Please follow all instructions relating to incubators, humidity, and hatching using the above incubator manual. Please ONLY use this guide for tips and suggestions for incubator placement and brooder box details and incubator cleaning after hatch**
This is a guide we created just for teachers! Many find this helpful to print and have posted near their incubator for their reference. If you are not able to print anything else, consider printing this resource. However, we have provided it online so you can refer back to it here as well.
Chicken Embryo Development Poster
We love this poster as it serves as an excellent guide for embryo development within a chicken's incubation period and hatching cycle. This resource is most helpful for candling.
Embryology Daily Record Sheet for Chickens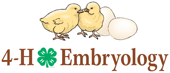 4-H SCHOOL ENRICHMENT INFORMATION:
4-H SPECIFIC FORMS:
4-H Youth Media Release/Consent Form
We LOVE to see pictures of your youth participating in the project! Share with us any exciting pictures of students making observations, turning their eggs, constructing their brooder boxes, or eagerly awaiting the hatched birds. We loved to see documented successes and we enjoy sharing those smiling faces with stakeholders who support the embryology project, including the egg vendor/farmer themselves. By having your students complete this consent form it will allow pictures to be shared and/or used for marketing purposes.
2018 4-H Embryology Teacher/Site Evaluation Customer Satisfaction Survey
Teachers receive a hard copy of the evaluation when they pick up their materials to begin the project. However, we have posted this in case the evaluation should get misplaced, etc. You may click the link to download the 2 page word document and reprint. You may fax this completed evaluation back to our office at 704-336-6876, scan in/email to catherine_daniels@ncsu.edu, or return along with your incubators and hatched chicks after you've completed the project. Evaluations are used to obtain resourceful information of program impact, ways to improve, and to record documented success stories for Extension reporting purposes.
4-H Monthly Reporting Form for Curriculum Use (Hard Copy)
You may fax this completed form back to our office at 704-336-6876, scan in/email to catherine_daniels@ncsu.edu, or return along with your incubators and hatched chicks after you've completed the project. We find that some teachers prefer the hard copy method so they can hand tally their student numbers.
4-H Monthly Reporting Form for Curriculum Use (Online Entry through Google Forms)
This is the direct link to our monthly reporting form for curriculum use. This information is CRUCIAL to our programming. We appreciate all feedback you can provide to describe your curriculum usage. We are pleased that we are able to provide such wonderful curriculum and resources for free to our schools, however, in order to continue to justify the provision of these materials, we must have numbers to document our 'reach'. By completing this reporting form (once per embryology project) you will be helping us tremendously. To reduce confusion it is suggested that the single or the lead teacher complete this once for their embryology round. Lead teachers should obtain rosters and other information from the other participating classrooms, compile the numbers/demographics, and complete the survey once for their school.